Chef Tai's (Boca Raton)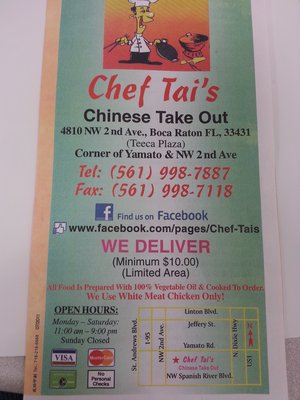 ***** Chef Tai's, 4810 Northwest Boca Raton Boulevard, Boca Raton, Florida 33431, (561) 998-7887.
Chef Tai's is a Chinese takeout-only joint in Boca Raton…surprise-surprise (courtesy Gomer Pyle), it is located in a "bombed-out" shopping center- that you probably wouldn't drive into in a million years. That said…Chef Tai's makes some delicious stuff. I heard about Chef Tai's about 5 months ago– have gotten food four times…haven't been disappointed even once.
Delicious- egg rolls, fried dumplings, bbq ribs, general tso's chicken, roast pork fried rice, shrimp with black bean sauce, pepper steak.
You can check menu/prices at www.bocamenus.com.
Based on Jeff Eat's patent-pending "Brooklyn Chinese Food Taste Test"- I gotta give Chef Tai's a top-notch rating. Trust me on this, the food is really good.
Chef Tai's is open Monday-Saturday 11am-9pm, closed on Sunday.