Gourmet Gourmet (Miami)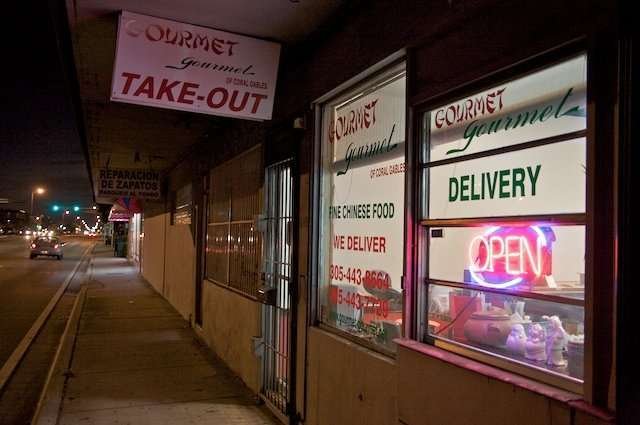 ***** Gourmet Gourmet, 4249 West Flagler Street, Miami, Florida 33126, (305) 443-8664.
Gourmet Gourmet is a "takeout" Chinese joint located in Coral Gables. Gourmet Gourmet has a handful of stools for eat-in, but the game here is pickup/delivery. You can check menu/prices at www.gourmet-gourmet.net.
Let's talk Jeff's opinion here…I'm gonna call Goumert Gourmet an absolutely terrific takeout joint…I'll bet you 5 bucks that Gourmet's —wonton soup, egg rolls, bbq ribs, roast pork fried rice, honey garlic chicken, sweet & sour pork, shrimp in lobster sauce are better than the stuff that your favorite neighborhood joint turns out. Gourmet is definitely one of the best takeouts that I have gotten food from.
Gourmet Gourmet…delicious food, big portions, reasonable takeout prices. One big drawback—this joint ain't in my neighborhood.
Gourmet Gourmet is open Monday-Saturday 11:30am-9:30am, Sunday 5pm-9:30pm.
If you live or work in Gourmet Gourmet neighborhood, you got a homerun joint for takeout Chinese food.