160 Degrees Burgers Done Well (Coconut Creek)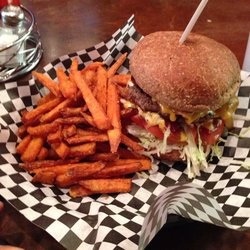 ***** 160 Burgers Done Well, 4437 Lyons Road, Coconut Creek, Florida, Florida 33073, (954) 633-2276.
Yesterday I was walking around the "white elephant" outdoor mall known as Promenade of Coconut Creek Plaza. Talk about disasterous timing…this mall opened for business just as the current economic crisis started to hit America–talk about sucking wind…poor real estate deals is a whole other topic for another day.
Anyway, I stopped at hamburger-hot dog-fries, fast food- order at/pickup at counter 160 Burgers for—a cheeseburger with sauteed onions, french fries and a Pepsi. The joint has indoor/outdoor patio seating.
160 Degrees Burgers Done Well is "1/2" of a two prong concept. You enter the store which has 2–counters…one for The Muffuletta A Sicilian Sub House…one for 160 Degress Burgers Done Well. Two different menus—two different kitchens. Personally, I think that the TWO idea is an amazing- waste of space, causes customer confusion, requires extra labor—I could go on and on, but this business puzzle is for the owners to figure out. I will tell you, that The Muffuletta/160 Degrees menus fully cover the sandwich/burger game. Before I move on and talk about my cheeseburger and fries…let me ask you-what the hell is a muffuletta? According to the owners, muffulettas are well known "sandwiches" in New Orleans. I rest my case—I'll bet you 20 bucks that most people seeing- The Muffuletta sign, think the joint sells muffins.
Now onto the burger…One of the best fast food cheeseburgers I have had in a very long time. Can't put my finger on it, but the burger was perfectly "seasoned" with something that made it absolutely delicious. The bet here, a drop of garlic. The fries, let's just say–ok, but nothing that that I would write home about. The cheeseburger-fries-soda—9 bucks. Just so you know, 160 Degrees has hamburgers-veggie-chicken-buffalo burgers.
By the way, you can check menu/prices for both 160 Degrees and Muffuletta at www.malteseholdings.com.
160 Degrees Burgers Done Well is open 7 days a week from 11am-9pm.