Yeung House (Fort Lauderdale)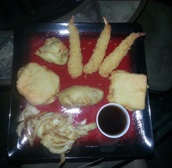 ***** Yeung House, 1747 North Federal Highway, Fort Lauderdale, Florida 33305, (954) 561 1888.
Yeung House is a "takeout only" Chinese joint.
The best way to describe Yeung House… Yeung- got the job done. Was the wonton soup, bbq ribs, egg rolls, pan fried dumplings, roast pork fried rice, sweet & sour chicken, pepper steak, honey garlic chicken the best takeout that I've had? N O P E…But as I said before, Yeung-got the job done.
You can check menu/prices at www.yeunghouse.com.
For those that live or work in Yeung's neighborhood, you could do far worse than this Chinese takeout.
Yeung is open Monday-Saturday 11am-11pm and Sunday 1pm-11pm.