Leo's Pizza (Miami)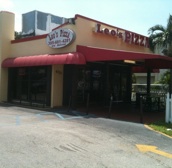 ***** Leo's Pizza, 6720 Coral Way, Miami, Florida 33155, (305) 661-4285.
Pizza-Pasta-Salads-Subs…check prices/menu at www.pizzaleos.com.
Leo's is a "hole in the wall—red sauce–pizza" joint…but, you already knew that. Leo's has been around for something like 35 years. A recent outing had me "sampling"—meatball sub– pizza–baked ziti–chicken caesar salad–garlic rolls. Let's just say, I found everything delicious, with special honors going out to those garlic rolls.
If this joint was in my neighborhood, I would be a regular eat in/takeout customer.
Leo's Pizza is open Sunday-Thursday 11am-11pm and Friday-Saturday 11am-midnight.