Hunan City (Boca Raton)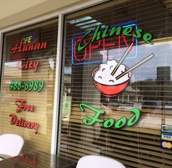 ***** Hunan City, 9101 Lakeridge Boulevard, Boca Raton, Florida 33496, (561) 488-8989.
Hunan City is strictly a takeout-delivery Chinese joint.
A recent order had me taking home…wonton soup, pan fried dumplings, bbq ribs, egg rolls, sweet & sour chicken, roast pork fried rice, shrimp chop suey. The food is okay…but nothing out of the ordinary. Your favorite neighborhood joint is probably better.
That's basically all that I have to say about Hunan City…except, you can check its menu/prices at www.chinesedeliverybocaratonflorida.com…and, the joint is open Monday-Saturday 11am-9pm and Sunday 5pm-9pm.