Relish Burger Bar (West Palm Beach)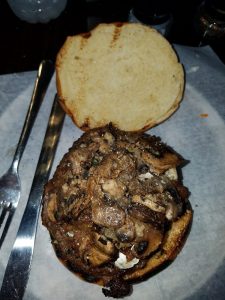 ***** Relish Burger Bar, 401 Northwood Road, West Palm Beach, Florida 33407, (561) 629-5377.
Got a big-time winner for you guys… Relish Burger, an upscale/fast food/order at-pickup at counter burger joint—in West Palm Beach. Not really too much to say about Relish, other than it makes absolutely delicious burgers, fries, wings, shakes,— has something like 1,000,000,000 burger toppings—and has turkey, buffalo, tuna, mahi mahi, veal, crab, lobster, shrimp- burgers for the folks who gotta be "fancy"…You can check this joint's website www.relishburger.com for menu/prices.
A recent outing had me doing…cheeseburger with sauteed onions ($6.28), french fries ($2.49), raspberry bbq grilled chicken wings (6-$5.59), chocolate truffle shake ($4.69)…no fooling around here—this is about as good as it gets in fast-food land.
Like I said before…Relish is a winner.
Relish Burger is open 7 days a week 11am-10pm.