Joe's Cafe (Fort Lauderdale)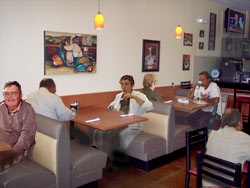 www.myjoescafe.com.
I recently did breakfast and lunch…trying, western omelette ($7.95), french toast ($6.95), chocolate chip pancakes ($6.95), patty melt (toasted rye-swiss cheese-burger-grilled onions/french fries $8.95), triple decker chicken salad sandwich ($8.95). Like I said before this is a d i n e r…and the stuff I had, was as good as the stuff I use to get at George's-my favorite Brooklyn storefront diner.
For you historians out there… Joe's Cafe is the second-coming of Joe Belair's Diner a 1950's diner which was demolished about 10 years ago to make way for yet- another, very-needed Walgreens.
Like I said before, open 7 days a week 7am-10pm.
If you like diners-and who doesn't (now I'm sounding like Dice Clay)?– you'll like Joe's.