Sophia's Pizzeria Restaurant (Coral Springs)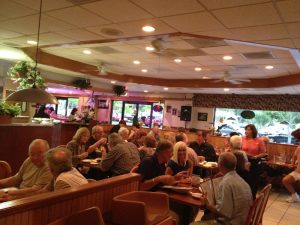 ***** Sophia's Pizzeria Restaurant, 760 Riverside Drive, Coral Springs, 33071, (954) 796-0405.
Sophia's Pizzeria is a "mom & pop–red sauce" Italian joint located in Coral Springs. Not gonna bother describing the "decor"…cause if you are over the age of 15 days, you know exactly what joints like this look like. Sophia's is owned by Agostino and Vilma, she runs the front of the house and he's the cook…excuse me, the chef. How the name Sophia gets into this plot–not sure.
Anyway…if you live or work in Coral Springs, you got a winner in your neighborhood.
I recently did a dinner—veal parmigiana ($16.95), chicken cacciatore ($14.95), chicken scarpariello ($15.95), shrimp scampi (16.95), large plain pizza ($11.95) and the food was very-good. Now, old Jeff's chicken "preference" is that cacciatore and scarpariello be–on the bone…but I will tell you, that the Sophia's boneless chicken dishes were standouts. Entrees come with choice of soup or salad, pasta side and garlic rolls.
Sophia's has a real nice menu. Loads of appetizers, soups, salads, pastas, calzones, strombolis, pizzas, subs, meat/seafood/chicken entrees. You can get details at sophiapizzeriarestaurant.com
Over the years I've eaten in so many "mom & pop red sauce" Italian joints that sometimes things get a bit blurry…when I try to remember stuff like who's got top shelf pizza, calamari, veal parm, garlic rolls, etc. I'll remember Sophia's as a real good joint, because it's owned by — Agostino and Vilma.
Sophia's is open Tuesday-Thursday 11am-10pm, Friday-Saturday 11am-10:30pm, Sunday noon-9:30pm, closed on Monday.