Corelino's Coal Oven Pizza & Cucina (Lake Worth)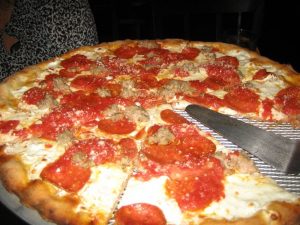 ***** Corelino's Coal Oven Pizza & Cucina, 6346 Lantana Road, Lake Worth, Florida 33463, (561) 968-8200.
Last night, I had dinner at Corelino's Coal Oven Pizza & Cucina…the joint is brand new–it just opened last Wednesday night. Corelino's seats something like 160, with both indoor and outdoor patio seating. You can check menu/prices at www.corelinoscoaloven.com.
Let me make this one simple…I thought that Corelino's was absolutely terrific. The food and service were outstanding…the prices super reasonable.
Over the years. I've eaten in tons of coal oven and "regular" pizza joints. I gotta tell you– Corelino's ranks right up there with the best of them.
Last night I did a house salad ($6 enough for 2), plain large pizza (16″- $11), coal oven wings (10-with french fries-$8.50), philly steak hero ($7.50-with french fries), jojo pollo (2 grilled chicken breasts with vegetables/roasted potatoes-$13), dessert sampler (mini pastries & cake-$10) and the food was absolutely delicious.
Trust me on this one, the food is right up there with the best stuff served by your favorite coal oven/Italian joint. Of note, all of the desserts are made in house. The mini pastries were right on the money and the chocolate cake could prove to be addictive.
There really isn't too much more to say…give Corelino's a try, it really is that good—and the joint is open Sunday-Thursday 11am-10pm and Friday-Saturday 11am-11pm.
Oh! almost forget to mention…Corelino's garlic rolls—SENSATIONAL- if my wife wasn't sitting there, I probably would have eaten 10 of them.