Shawn & Nick's Courtyard Cafe (Wilton Manors)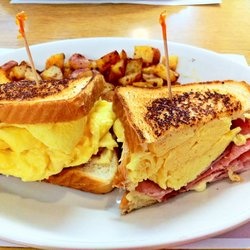 ***** Shawn & Nick's Courtyard Cafe, 2211 Wilton Drive, Wilton Manors, Florida 33305, (954) 563-2499.
Let's call this one a "diner." There is both inside and outside patio seating.
Check www.wiltonmanorscourtyardcafe.com for menu/prices.
This joint has some heavy duty extensive hours. Sunday-Wednesday 7am-3am, Thursday-Saturday 12am-12am (that's 24 hours).
Let's talk…huge menu- loads of breakfast stuff, appetizers, burgers, sandwiches, salads, meat-seafood-chicken entrees, desserts. Very reasonable prices. Plenty of "specials."
Is Shawn & Nick's the best diner that I've ever been in? Nope!…that said, the bacon cheese burger/sweet potato fries ($7.75) was pretty decent…same for chicken salad wrap/french fries ($7.75), raisin French toast ($3.75). I thought that the "The Mess" (2 scrambled eggs mixed with bacon, sausage, ham, American cheese) was outstanding ($5.95).
So…you now know about a diner, that has reasonable prices, decent enough stuff and is open when most other joints are long dark.