Boca Raton Fire Rescue-Station #5 (Boca Raton)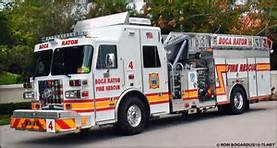 ***** Boca Raton Fire Rescue-Station #5, 2333 West Glades Road, Boca Raton, Florida 33431, (911).
This past Tuesday, August 24, 2010 I worked as a "poll worker" at Boca Raton Fire Rescue-Station #5 in Boca Raton. Not really going to get into it, but I seriously doubt that you could find a more pleasant and helpful group of firefighters/ems folks than those assigned to this location anywhere in the United States. These "guys" went out of their way to make sure that us-poll workers were as comfortable and equipped as needed.
On August 24th, I was in the "station" from 5:45am-7:50pm—simply amazing how many calls the fire and ems trucks made during those hours. Whatever these folks get paid, Mrs. Mayor, not enough.
Anyway…I'm sure that you guys have "heard" about what great cooks firefighters supposedly are—well, I sampled a garden salad-chicken parmigiana-penne marinara-garlic bread dinner prepared by firefighter Adam Elliot, that was as good- if not better, than the stuff made by most of Italian "mom & pop-red sauce" joints that dot the Boca Raton landscape. By the way, the firefighters buy/pay for all of their food from their own pockets—this dinner cost each diner-12 bucks.
You now know about a "joint" that you can't eat in.
Once again, thanks to Station 5 "D" Shift- Captain Aaron Fix, Lieutenant Ryan Cihowiak, Driver/Engineer Todd Withrow, and Firefights Ryan Kelly, Manny Nuno & Adam Elliot for making 6-very "warm" poll workers feel right at home.
One final thought, I heard that "they" got a guy who makes steaks better than those served at New York Prime and another guy who makes bbq to die-for. I say—we need more elections!