Pompano Pizza Italian Eatery (Pompano Beach)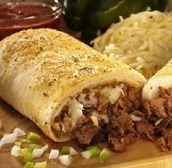 ***** Pompano Pizza Italian Eatery, 1606 South Cypress Creek Road, Pompano Beach, Florida 33060 (954) 782-5800.
Pompano Pizza is a "mom & pop–red sauce" Italian joint. Check www.pompanopizza.com for the full lineup of pizzas/pastas/calzones/strombolis/hot-cold subs/meat-seafood-chicken entrees.
Is this one of the great "mom & pops"…no sirree Bob. That said, decent enough…plain large pizza ($10.95), veal parmigiana ($13.95), veal marsala ($14.95), calamari marinara ($12.95).
You know how this all works, entrees come with choice of soup/or salad, pasta side, garlic rolls.
Let's call this one—a good-neighborhood joint that gets the job done.
Pompano Pizza is open 7 days a week for lunch and dinner.