Four Star Ravioli Deli & Bakery (Coral Springs)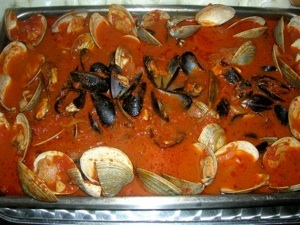 ***** Four Star Ravioli Deli & Bakery, 10786 Wiles Road, Coral Springs 33076, (954) 974-2444.
Got a real-good Italian Deli Bakery…Four Star Ravioli located in Coral Springs. The joint has a couple of tables—so let's consider this joint a takeout. You can check menu/prices at www.fourstarravioli.com.
Four Star is a throwback to the Italian delis which dotted the NYC landscape circa 1950s-1960s…for those of you old enough to remember, back then—literally every "neighborhood" in the 5 boroughs had some type of mom & pop deli(s) where your mom sent you to pickup food when you were a kid. In my Brooklyn neighborhood, there was a kosher deli—there was a German deli–there was an Italian deli…all within 7 blocks of each other. In that same radius–the supermarkets were A & P, Waldbaum's and Bohacks. There were also 5 bakeries and 9 candy stores. There was also 6 "grocery stores"—I can still picture Mr. Goodman sitting behind the register. Not to mention a Chinese hand laundry—and 4 pizza joints and 2 "full" Italian restaurants. Also–let's not forget those darkly lit bars…my neighborhood had 4 of those guys…and I almost forget butcher shops, there were 3–and fruit stores there were 2 in my neighborhood.
Anyway…Four Star has the full boat of hot-cold subs, pizzas, soups, salads, pastas, meat/seafood/chicken dishes, cheeses, breads, baked goods.
I recently had some folks over to the house—and picked up the following… 2-17″ sicilian pizzas, 2-16″ plain round pizzas, 3-10″ chicken parmesan sub, 3-10″ sausage/peppers/onion, 3-philly cheese steak subs, 3-10″ prosciutto & mozzeralla subs, caesar-antipasto-mozzarella caprice salads, minestrone and Italian wedding soups. The food was delicious and very reasonably priced.
To be honest with you, Four Star is not exactly in my neighborhood…that said, every so often, I think you gotta change it up from the neighborhood momma & pop red sauce pizza joints…after awhile, at least to me, all of the food that these joints make– begins to taste all the same. Four Star is not a restaurant and is more "caterer like"—if that makes any sense to you folks!
Four Star is open Sunday-Monday 9am-3pm, Tuesday-Friday 9am-6pm and Saturday 9am-5pm.