Canton Palace Chinese Restaurant (Miami)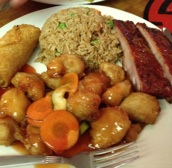 ***** Canton Palace Chinese Restaurant, 7980 Southwest 8th Street, Miami, Florida 33144, (305) 264-9444.
Now I've seen it all…a Chinese restaurant that "translates" its English menu into Spanish…I've been in Chinese joints where wontons are "called" kreplach but last night was the first time that I ever encountered…pan fried dumplings (empanadas fritas)—egg rolls (rollitos de huevo). If you like, you can guess what– carnaribes en salsa de frijoles negros and carne con cebollas y pirrento are.
Anyway…the point of this discussion—Canton Palace Chinese makes some of the best Chinese food that I've had down here in South Florida. Last night's dinner had me doing, wonton soup, pan fried pork dumplings, egg rolls, roast pork fried rice, shrimp with black bean sauce, pepper steak, honey garlic chicken, mu shu pork. This is a "mom & pop" operation—if you are over the age of 2, you know exactly what the joint looks like. You also know that there all kinds of specials—soup-appetizer-main dish-white rice-dessert for 9-10 bucks. For you dim sum eaters, dim sum is served all day.
No fooling here…Canton Palace Chinese is really good. You can check menu/prices at Urbanspoon (a great restaurant review source) www.urbanspoon.com.
Canton Palace is open Sunday-Thursday 11am-10pm and Friday-Saturday 11am-11pm.