Lucarella's (Oakland Park)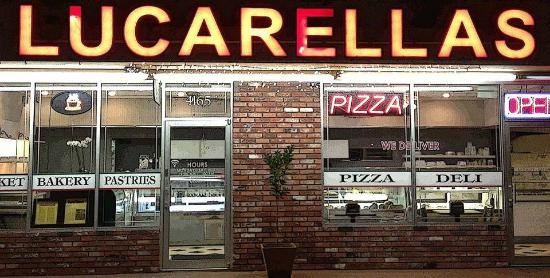 ***** Lucarella's, 4165 North Dixie Highway, Oakland Park, Florida 33334, (954) 630-8855.
Lucarella's is a red sauce Italian takeout "pizzeria-deli-bakery"…don't let the joint's "dumpy" storefront scare you off—trust me on this one– some of the best pizzas, calzones, hot/cold subs, salads, pastas, meat/chicken/seafood dishes, baked goods that you will ever bring home.
Check Lucarella's menu/prices at www.lucarellas.com.
I recently did… 18″ plain pizza ($12.99), chicken parmigiana calzone ($5.25), 6″ sausage-peppers-onion sub ($6.50), 6″ chicken salad sub ($6.50), caprese salad ($8.99), meat lasagna dinner (includes entree, garlic roll, house salad, pasta side $9.99), large chocolate cannoli ($3.95) and the stuff was absolutely delicious.
For you speed-readers out there…THIS IS A RED SAUCE TAKEOUT JOINT. If "mom & pop" stuff is your game (it's mine)– you gotta give Lucarella's a shot.
Lucarella's is open Monday-Saturday 9am-9pm. The joint is closed on Sunday.