Confucio Express Gourmet (Miami)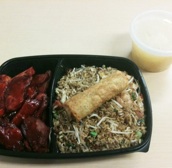 ***** Confucio Express Gourmet, 1810 Southwest 3rd Avenue, Miami, Florida 33129, (305) 860-7747.
Confucio Express is "basically" a takeout Chinese joint…they got some outside seating, but takeout-delivery is the real game here.
I did a "basic" Brooklyn taste-test on this one…wonton soup, egg rolls, bbq ribs, fried dumplings, roast pork fried rice, sweet & sour pork, pepper steak, shrimp with broccoli—you can check www.confucio-express.com for menu/prices.
The verdict—Confucio is one of the best Chinese TAKEOUT joints that I've tried down here in South Florida. Good food. Reasonable prices. Huge portions. By the way, I thought that the egg rolls, roast pork fried rice and pepper steak were absolutely delicious.
Just so you know, since I'm not from the hood…I ate at one of its outside tables—and took a ton of left-overs home.
The joint is open Monday-Thursday 11am-10pm, Friday 11am-11pm, Saturday noon-11pm, Sunday noon-10pm.