Subs On The Run (Miami)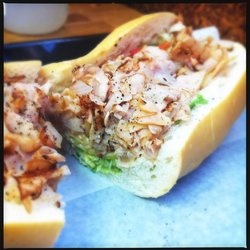 ***** Subs On The Run, 2801 Northwest 7th Avenue, Miami, Florida 33127, (305) 638-4646.
Got a terrific "sub shop" for you…Subs On The Run in Miami. Order at the counter/pickup at the counter/indoor seating.
Huge menu of hot-cold subs which come in two sizes…6″ and 12″. Recently did a handful of 6 inchers…chicken salad ($3.99), chicken fajitas ($4.85), tuna ($3.99), steak & onions ($4.49).
Subs On the Run "makes" some of the best subs that I've eaten. Great bread, terrific food, huge portions, lovely counter-people. In addition to the "run of the mill subs' selection, this joint has a menu of breakfast subs and burger subs. For the ladies out there, Subs On The Run also has a handful of salads, so if bread ain't your game, you'll be just fine.
Subs On The Run is a winner.
The joint is open Monday-Friday 7am-7pm, Saturday 8am-5pm, closed on Sunday.