Carcione's Pizzeria Italian Ristorante (Fort Lauderdale)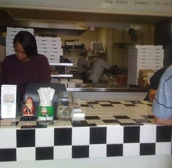 ***** Carcione's Pizzeria Italian Ristorante, 1019 West State Road 84, Fort Lauderdale, Florida 33315 (954) 530-7948.
You can thank me later for turning you on to this TAKEOUT pizza joint.
Carcione's makes some heavy duty-delicious pizzas, pastas, subs, calzones, strombolis. On the price front–for example…the 6″ subs go for $4.25 and the most expensive 12 inchers are gonna run you $7.25. The joint also sells $2.35 slices.
I recently did a plain slice, chicken parm 6-incher and a 6″ sausage/peppers/onions…I'm telling you, the stuff is delicious. You can check the menu/prices at www.carciones.com.
This is a real good one. Keep in mind…only a couple of inside seats, so plan on eating-standing up outside, or in the car, or at home.
Carciones is open Monday-Thursday 10:30am-10:30pm, Friday-Saturday 10:30am-midnight, Sunday 11am-10pm.