Il Toscano (Weston)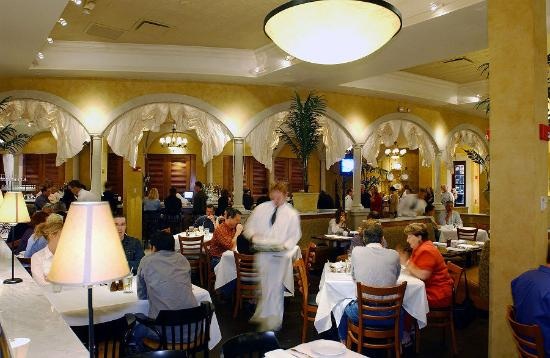 ***** Il Toscano, 2282 Weston Road, Weston, Florida 33326 (954) 385-5883.
Great looking- moderatley priced- upscale white tablecloth-Italian joint located in Weston. That said…your "dungarees" will work here (Do they still call them dungarees?) Terrific professional white jacketed wait-staff..
Take a look at www.iltoscanoweston.net for menu/prices/loads of pictures so you'll know what this joint looks like.
Let me make this one short…Il Toscano is one of the best Italian restaurants I've been to down here in old South Florida. It is a great looking joint…the food is terrific and fairly priced…the service is excellent. The joint has indoor and outdoor patio seating—and a full bar.
A recent outing had me doing…spiedino romano ($7.95—fried mozzarella)—veal marsala ($18.95)—chicken parmigiana ($16.95)—shrimp parmigiana ($24.95)—penne alla vodka ($13.95)—gnocchi pesto ($12.95). Entrees come with pasta side…the food is outrageously good. That spiedino romano is worth the price of admission-alone.
Il Toscano is a dynamite restaurant…if you don't live in the Weston area…it's worth the schlep.
Il Toscano does lunch Monday-Friday 11:30am-3:30pm, dinner Monday-Thursady 5:30pm-10:30pm, dinner Friday-Saturday 4pm-midnight, dinner Sunday 4pm-10:30pm.