Pizza Kitchen (Miami)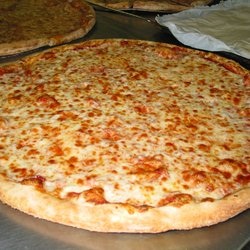 ***** Pizza Kitchen, 12715 South Dixie Highway, Miami, Florida 33156 (305) 256-9459.
This is a follow-up to Jeff Eats' Pizza Kitchen story dated 10/6/09.
Pizza Kitchen is a mom & pop neighborhood "takeout pizza" joint…no tables inside and 3 little plastic tables outside, so don't plan on eating "there." Also- don't plan on paying with a credit card, because it's cash only. By the way, back on October 6, 2009 I did a review on Pizza Kitchen…just checking to see if this joint is as good as I originally thought…and it is.
Pizza Kitchen makes absolutely delicious NY-style pizza…in addition to pizza there is a handful of subs and salads, but the game here is–pizza. That said…the joint also makes garlic bread-sold by the loaf which is absolutely dynamite. By the way, Pizza Kitchen in addition to pies also sells individual slices.
I recently did a plain old pie…slice was thin, crisp, sweet sauce and when folded-pointed down dripped oil…I am telling you, this joint could easily compete with most of the pizza joints in the 5 boroughs. Also did a garlic bread topped with mozzarella…suffice it to say, it was a 3-Tums night. Like they say, "no pain no gain."
Pizza Kitchen has been around for something like 20 years. Big, loyal following. I wish this joint was in my neighborhood, but the 111 mile round trip was worth the gas which I got for the bargain price of $2.73 a gallon.
Pizza Kitchen is open Monday-Friday 11am-9pm, Saturday noon-9pm and Sunday noon-5pm.