Sandwich Man Pizza Too (Delray Beach)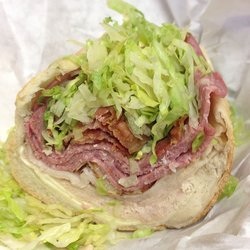 ***** Sandwich Man Pizza Too, 2001 West Atlantic Avenue, Delray Beach, Florida 33445 (561) 274-3175.
Let's call Sandwich Man Pizza Too an "ecletic fast food" joint. Order at the counter—wait for your number to be called, pickup your food.
This joint's menu is jammed with breakfast sandwiches (kaiser roll or bagel), salads, subs (small or large), burgers, pizza (whole pies or slices). Very reasonably priced…$5-8 per sandwich.
Now for the big question.—Is the food any good? I did pizza (ok, but I know at least 25 joints that make a better slice), good bacon cheeseburger, good meatball parmigiana sub, good pastrami with melted swiss cheese sub, delicious philly cheesesteak sub, delicious sausage & peppers parmigiana sub.
Silly name (but then again you do REMEMBER it), good prices, good food.
I enjoyed Sandwich Man Pizza Too…the joint is open Monday-Friday 7am-5pm, Saturday 7am-4pm, closed on Sunday.