Hurricane Grill & Wings (Boca Raton, Coral Springs, Miami, Plantation, Coconut Creek, Palm Beach Gardens, Royal Palm Beach, Juno Beach, Port Saint Lucie, Sunrise, Vero Beach, Fort Pierce, Orlando) )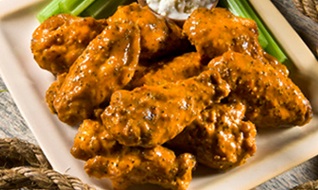 ***** Hurricane Grill & Wings, 22191 Powerline Road, Boca Raton, Florida 33433 (561) 395-3306.
Before I get started, do me a favor and–check my June 6, 2008– Hurricane Grill & Wings (Deerfield Beach) writeup. Go ahead, I'll wait!
Okay…the Deerfield Beach location closed awhile ago—and this past Monday (today is Wednesday), a brand new Hurricane Grill & Wings opened on Powerline Road in the spot which formerly housed The Draft House.
Now that we are-all current…this evening I "did" dinner at the new Hurricane Grill & Wings. Let me make this real simple…this new location is absolutely terrific. The joint, which can probably handle 250 people- has indoor and outdoor patio seating, 2-full bars (one in and one out), flat screen tvs galore, a great faux-Key West look, delicious food, attentive waitstaff, super reasonable prices.
This joint is a HOMERUN.
This evening I "sampled"… hurricane chicken salad ($9.99–mixed greens, grilled chicken, diced tomatoes, red onions, cheddar cheese, chopped bacon, other stuff)-it was big enough for 2 to share—1/2 lb bacon cheeseburger & french fries ($8.99)—non-breaded chicken wings (15 wings + sweet potato fries + cole slaw- $12.99)—breaded boneless wings (10 wings + kettle chips + onion rings-$8.99)…like I said before, the food was delicious. Just so we are straight, I didn't eat "all" of this stuff by my lonesome-and- honey mustard, garlic & parmesan, teriyaki, raspberry were the toppings of choice.
Just for the record, if I counted (from the menu) correctly there are 32 different chicken wing flavor sauces. Hurricane Grill also "allows" you to create your own flavor, if playing Tom Terrific is your game.
Hurricane Grill & Wings is-not and I repeat is-not… just a wings joint. Its menu also has plenty of appetizers, salads, burgers, sandwiches, entrees.
If you have been paying attention, you know that I have been talking about the Hurricane Grill which just opened on Powerline Road in Boca Raton. For the record, Hurricane currently has 31 locations…if you check www.hurricanewings.com you might find a "location" closer to your home or office and menu details.
Hurricane Grill is open Sunday-Thursday 11am-11pm and Friday-Saturday 11am-2am.