Eco Yogurt Lounge (Boca Raton)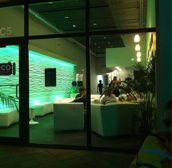 ***** Eco Yogurt Lounge, 1200 Yamato Road, Boca Raton, Florida 33431.
I guess when it rains it pours…on April 12, 2010– I told you guys about a "self serve" yogurt joint, Orange Leaf which had recently opened in Boca Raton. Real simple concept, get an empty cup, you-fill it with yogurt and toppings…cup gets weighed and you pay by the ounce. Well, low and behold, another "one" of these self-serve type joints, Eco Yogurt Lounge opened last week on Yamato Road in Boca Raton. Exact same concept, something like 12 flavors, toppings, cups, scale. According to its website www.ecoyogurtlounge.com this joint is owned and operated by 2-medical doctors.
Anyway…I really-only wish these two MDs well, but they really should stick to practicing medicine. Unlike Orange Leaf, Eco isn't a franchise…and apparently these two folks designed this store all on their own…All I can say, WHAT A MESS. The joint is "all white" with white leather couches for seating–the yogurt machines are- stuck all the way in the back of the store…let's put it this way, when you walk in the joint, it looks like an upscale martini bar that you would find in South Beach, not a yogurt-ice cream store.
I tried the vanilla-yogurt. Nothing special one way or the other.
Eco Yogurt is open 7 days a week 11am-11pm. Like I said before, I wish the owners well, but the store's decor "to me" is an absolute turnoff-from the get-go.