Nexxt Cafe (Miami Beach)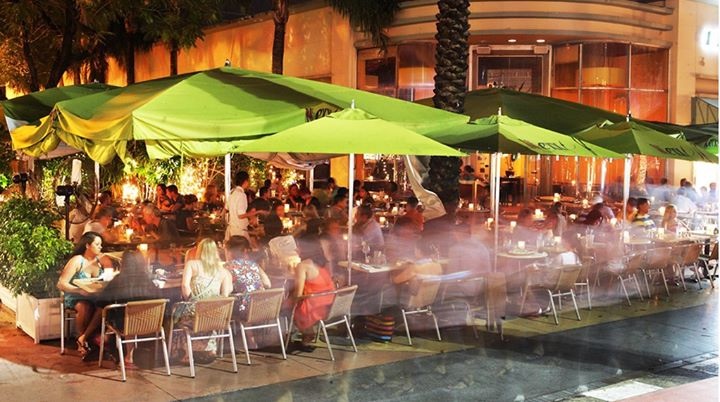 ***** Nexxt Cafe, 700 Lincoln Road, Miami Beach, Florida 33139 (305) 532-6566.
This afternoon (Good Friday), I was down in South Beach- playing "tourist" with my wife and two visiting kids…Lincoln Road was absolutely packed. Anyway…I gave Nexxt Cafe an "American style diner with a full bar" a shot…think Cheesecake Factory with indoor and huge-outdoor patio seating and-you got the picture. Check www.nexxtcafe.com for menu.
Nexxt's menu is loaded with "everything" that your little heart could desire…appetizers, salads, pizza, pastas, mexican stuff, burgers, sandwiches, meat/seafood/chicken entrees. The prices aren't bad. Service is good. The food is very good. The portions are very-very generous.
For lunch, I sampled…burger sliders (4 for $9.95), orange chicken ($18.95), caesar salad with grilled chicken ($14.95), beef stir fry salad ($13.95). All 4 dishes were very good. I will tell you, that the orange chicken which came on a bed of white rice, was one of the best "orange chicken" dishes that I have had in recent memory. The sauce was extremely tasty and the chicken had a super thin crust. Let me also mention, that the orange chicken dish can easily feed 3 people, samething for the caesar salad, absolutely humongous. The beef stir fry is good for 2 people.
Now, you and I both know, that much of South Beach is nothing but a "tourist trap"…well, Nexxt Cafe gives tourists and "us" locals a great meal for the money.
Just a heads up…a 15% gratuity is automatically applied to parties 5 and under and 18% is applied to parties 6 and over…
The joint is open Sunday-Thursday 11am-11:30pm and Friday-Saturday 11am-12:30am.