JP's Bagel Place (Hollywood)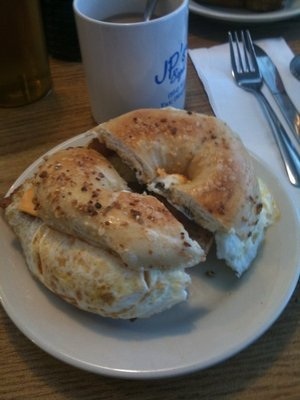 ***** JP's Bagel Place, 2649 Hollywood Boulevard, Hollywood, Florida 33020 (954) 921-9483.
On December 12, 2008, I told you guys about JP's Bagel Place…well, until a few days ago, I hadn't been back–and things were just as terrific as I remembered.
JP's Bagel Place in Hollywood is a "bagel-deli-diner"…maybe the joint seats 20 people. Check JP's website www.jpsbagelplace.com for menu/prices/photos.
I love–and–I do mean love, hole in the wall joints like JP's…nothing fancy, nothing expensive—just, good food, good service, good prices. JP's has been around since 1982, so you got to figure…it must be doing something right.
A recent outing had me doing…western omelette (home fries, plain bagel $5.95), cheeseburger & fries ($4.95), chicken parm sub (chips, $6.25), philly cheesesteak sub (chips $6.50). Like I said before, good solid DINER FOOD.
JP's does breakfast & lunch…Monday-Friday 7am-2pm and Saturday-Sunday 7am-1pm.