Rickey's Sports Bar & Grill (Pembroke Pines)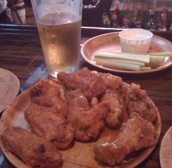 www.rickeyspinesrestaurant.com. In addition to a real-good menu-selection, the prices are reasonable, there is a full bar and Rickey's got the requisite load of flat screen tv sets…does anyone call them color tvs anymore?
I recently did…full rack of bbq babyback ribs ($17.95), bacon cheeseburger ($7.25), philly cheesesteak sandwich ($7.95), 12oz rib-eye steak ($12.95), grilled garlic shrimp with linguine ($10.95), tuna & chicken salad platter ($7.95—everything was real good.
Over the years, I have eaten in tons of sports bars…most of the time, the food in these joints is OK…but nothing to write home about. Now–not quite a first class letter, I'm gonna call Rickey's a postcard. Enough…with the cute patter…I enjoyed the food and will definitely keep Rickey's in mind for a second and third visit.