Pearl's New Generation Restaurant (Lantana)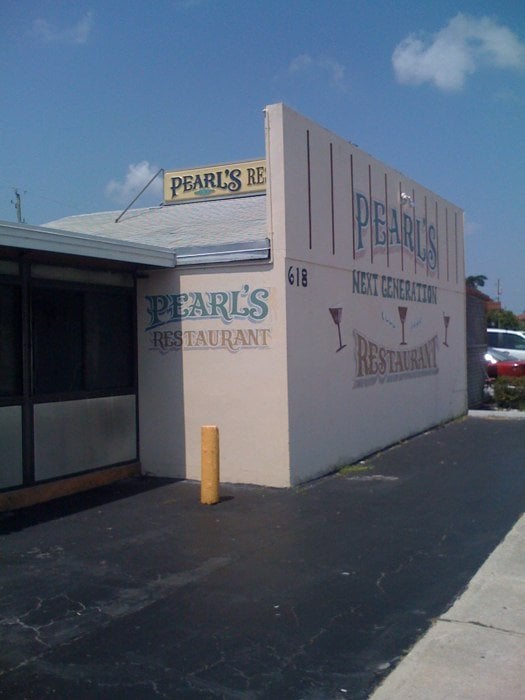 ***** Pearl's New Generation Restaurant, 618 Lantana Road, Lantana, Florida 33462 (561) 582-4366.
In a nutshell, Pearl's is a "neighborhood diner" with a small sports-bar thrown in for good measure. From what I understand, Pearl who is something like 95, opened this joint back in 1965…and currently runs it with her kids, grand-kids and other family members.
Right up front, if you are looking for "fancy-schmanzy" there is no need for you to read any further. Pearl's is as basic of a joint that you'll find. Formica tables, worn stools at the counter…this is not The Cheesecake Factory, J. Alexander's or Houston's…I'll bet you a meal, that when Pearl's opened in 1965 it looked exactly as it does today…except for the small sports-bar addition, which looks 2000ish.
Anyway…Pearl's does breakfast-lunch-dinner…with a nice menu of appetizers, salads, soups, sandwiches, burgers, meat-seafood-chicken entrees, desserts….check menu/prices at www.pearlshomecooking.com.
I have eaten at Pearl's twice…one breakfast and one lunch. Did a western omelete, french toast, pancakes…bacon cheeseburger, philly cheese steak sandwich, tuna melt sandwich. Let there be no mistake here, THIS IS DINER FOOD. Absolutely- positively nothing fancy here…just, good- solid- tasty food at very reasonable prices. Like I said before, the joint does breakfast-lunch-dinner…with dinner featuring an "$11.99 early bird special" soup or salad, entree, potato, coffee, dessert.
I love joints like Pearl's. They are a throwback to the way America use to be before big-chains took over everything.
Pearl's is open Monday-Saturday 6am-10pm and Sunday 6am-2pm.