Village Tavern (Boynton Beach, Pembroke Pines)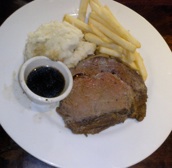 ***** Village Tavern, 1880 North Congress Avenue, Boynton Beach, Florida 33426 (561) 853-0281.
Last night I gave Village Tavern an "American Style" joint located in Boynton Beach a shot…there is also a Village Tavern in Pembroke Pines—when you check the joint's website www.villagetavern.com for menu/prices you will find that there are a handful more in several other states.
Village Tavern seats something close to 300. There is a dining room and separate bar area.
The best way to describe Village Tavern's decor—think Cheesecake Factory, Houston's, J. Alexander's and you got the picture.
Last night, this joint was jammed. I will tell you, that an 8pm reservation for 4–was honored.
Now let's talk food…the menu is loaded with appetizers, salads, pastas, sandwiches, burgers, pizzas, meat-seafood-chicken entrees. This evening I "did" bbq pulled pork sliders (3-with french fries $8.50), bacon cheeseburger ($9.95), grilled talapia ($16.95), grilled chicken & penne ($14.50), shrimp scampi ($15.95)…I enjoyed all of the food, except the french fries which were on the "limp" side.
Village Tavern is a WINNER. Nice sized portions. Very reasonable prices. Pleasant and competent waitstaff.
Village Tavern is open Monday-Thursday 11am-10pm, Friday-Saturday 11am-11am, Sunday 10am-11pm.