The Original Lots of Lox Deli (Miami)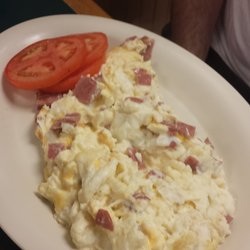 ***** The Original Lots of Lox Deli, 14995 South Dixie Highway, Miami, Florida 33176 (305) 252-2010.
The Original Lots of Lox Deli which has been around for 30-something years, is a "NY Style Bagel-Deli"…located in Palmetto Bay.
First things first, yes–I tried the joint's nova and it was delicious…with that out of the way, let, me tell you that this 7 days a week 7am-9pm joint is one of the better "bagel-deli" joints that I have eaten in down here in South Florida.
Great selection– of bagels, all kinds of appetizing, breakfast items, salads, sandwiches, burgers, dinner entrees. Take a look at The Original's website www.originallotsoflox.com for menu/prices/pictures.
I recently did a corned beef on rye, chicken salad on white toast, sweet and sour stuffed cabbage, bacon cheeseburger, meat loaf, brisket on a kaiser roll, matzo ball soup…I liked everything.
The Original Lots of Lox Deli is a winner. If you live or work in the area, give it a shot.