Strathmore Bagels (Wellington)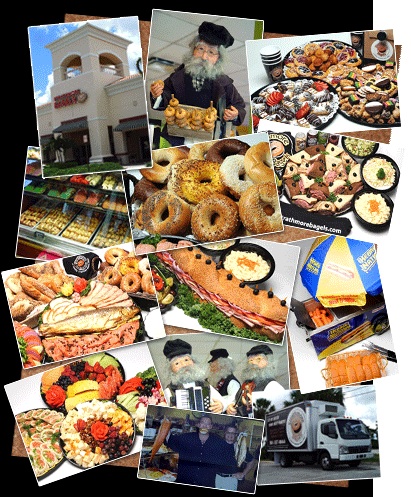 ***** Strathmore Bagels, 4095 State Road 7, Wellington, Florida 33467 (561) 357-0044.
Strathmore Bagels is one of the best "bagel-deli" joints in South Florida.
Before we go any further, this review is about the Strathmore Bagels located in Wellington. There are other Strathmore–South Florida locations…I have not tried any of those. Not sure of the exact details, but the Welligton store is owned/operated by Strathmore's founder Jerry Steuerman–the other locations are franchise-operations.
A recent outing had me trying, potato pancakes ($6.95), challah french toast ($6.95), western omelette ($8.95), tuna salad platter ($9.95), chicken salad platter ($9.95), corned beef on rye ($8.95), pastrami on rye ($8.95), brisket on rye ($8.95), "everything" bagel"–"sesame bagel"–"pumpernickel bagel"…like I said before, Strathmore is one of the best bagel-deli joints down here—the food is right on the money.
Just so we are straight, the deli meats are not–I repeat–not in the same league as the stuff that you get at "full-time-real" delis like Pastrami Queen, Pomperdale's, Ben's…but in all fairness, I will tell you, that Strathmore is putting out a nice product at real reasonable prices.
You can check www.strathmorebagels.com for menu/prices/photos.
Strathmore Bagels is a winner.
The joint is open 7 days a week 6:30am-2:30pm for eat-in and 3:30pm for takeout.