Bagel Snack Restaurant & Deli (Pompano Beach)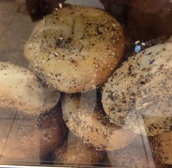 ***** Bagel Snack Restaurant & Deli, 1237 South Powerline Road, Pompano Beach, Florida 33061 (954) 974-4564.
Got a really good "NY STYLE BAGEL DELI" joint for you…Bagel Snack in Pompano Beach. Check menu/prices at www.lauderdalemenus.com.
Bagel Snack's menu is loaded with real good– breakfast stuff, salads, sandwiches, lox-deli meats…and absolutely terrific– bagels and bialys.
You know and I know, that bagel-deli joints are a dime-a-dozen down here in South Florida…Bagel Snack is definitely one of the best ones.
Nothing more to say, except…the joint is open 7 days a week-6:30am-3pm.