New York Bagel Deli (Miami Beach)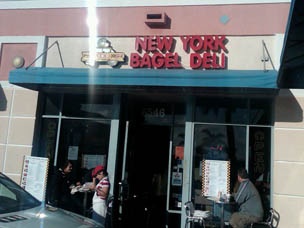 ***** New York Bagel Deli, 6456 Collins Avenue, Miami Beach, Florida 33141 (305) 865-2522.
Got a good (with one caveat) "bagel-deli" for you…New York Bagel Deli located on Collins Avenue. From what I understand, this 34 seat "hole in the wall" has been around since 1996–and currently has 4 additional Miami Beach locations in development. You can get menu/prices/future locations at www.newyorkbageldeli.com.
N.Y.B.D. is an ORDER AT THE COUNTER–PICKUP AT THE COUNTER joint. Big bagel selection. All types of cream cheeses–salads–sandwiches–juices–smoothies–coffees. I tried an "everything" with chicken salad–"poppy" with tuna salad–"plain" with cream cheese, western on a "sesame"…the "toppings" were absolutely delicious. The bagels were fair-a bagel is suppose to be "hard" on the oustside with a soft inside, not a totally soft product.
Got one other major problem with this joint…$8.95 for chicken or tuna, $2.75 for a shmear, $5.95 for a western on a bagel…
Nothing for nothing…New York Bagel Deli has been around for something like 14 years…has 4 stores in development—so I could be wrong, but those prices are a bit testy for me.
New York Bagel is open 7 days a week 7am-6:30pm.