Pelican Cafe (Lake Park)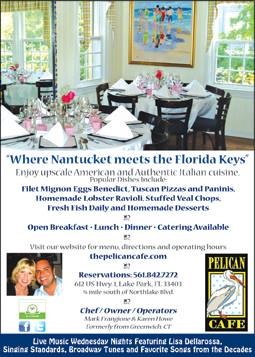 ***** Pelican Cafe, 612 US Highway 1, Lake Park, Florida 33403 (561) 842-7272.
Let's call Pelican Cafe a "a cozy-neighbborhood American-style" joint…which serves breakfast-lunch and dinner. If you check its website www.the pelicancafe.com you will find menu/prices/photos so you'll know what this joiint is all about. Let me get this out of the way, Pelican has indoor & outdoor patio seating and is closed on Monday–serves breakfast Tuesday-Saturday 8am-11:30am, lunch Tuesday-Saturday 11:30am-2:30pm, dinner Tuesday-Sunday 5pm-9:30pm, Sunday brunch 9am-2pm—these guys got more-schedules than the Long Island Railroad.
Anyway…the other day, I did breakfast at Pelican Cafe and this joint is a winner. Just so we are straight, I didn't do lunch or dinner or brunch…but based on breakfast, I'm gonna go out on a limb and think-that lunch and dinner are also going to be real strong.
I have never really mentioned this, but old Jeff Eats is a sucker for a good donut…well, Pelican makes "home-made" donuts– plain, powdered, apple cider cinnamon, chocolate frosted, blueberry—and Dunkin' Donuts and Krispy Creme better watch out…the chocolate frosted and plain were outstanding.
As for my breakfast "sampling"…banana & pecan waffles, challah french toast, western omelet—right on the money.
Like I said before, I only did breakfast—but I definitely would like to give this joint a shot for lunch and dinner. In reviewing the menus, the dinner menu is heavy on Italian stuff, which is even more reason for me to get to Pelican Cafe because I love Italian food…then again, I also love Chinese food, burgers, wings, ice cream.
Pelican Cafe…the donuts alone are worth the price of admission.