Rocco's Tacos & Tequila Bar (Boca Raton, West Palm Beach)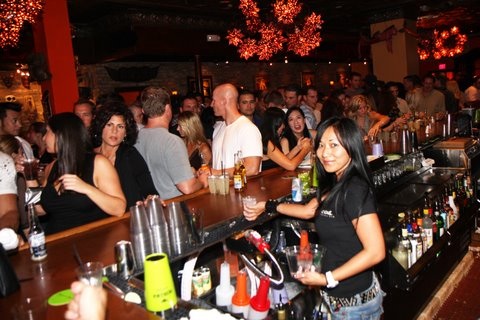 ***** Rocco's Tacos & Tequila Bar, 5250 Town Center Circle, Boca Raton, Florida 33486 (561) 416-2131—224 Clematis Street, West Palm Beach, Florida 33401 (561) 650-1001.
Just finished eating at a Mexican joint…Rocco's Tacos in Boca Raton and I gotta tell you, Rocco's may-be the best Mexican restaurant that I have eaten in-down here in South Florida.
Before I start yapping…there are two Rocco's Tacos in South Florida–the original in West Palm Beach has been around for something like 2- years and the Boca spot which opened in late November 2009.
Let me start by saying, that the joint is great looking. Rather than trying to describe the decor, you can can look at photos and check the menu/prices at www.roccostacos.com. I will tell you, that this a hip-looking joint, that 20 year olds and 90 years olds will enjoy…and everyone in-between. There is indoor seating, give or take for 180, plus a huge outdoor patio.. when Jeff Eats, Mrs. Jeff Eats and Son Jeff Eats arrived, it was around 35 degrees– so we dined indoors…Grandma & Grandpa Jeff Eats didn't raise no dope.
The menu is loaded with moderatley priced quesadillas, burritos, tamales, tacos, fajitas…there is a long-full bar with 2 flat screen tvs, booths and tables. The food is outrageoulsy good… in no particular order– skirt steak, grilled chicken, french fries, chocolate ice cream, churros, roast pork, chips and salsa, tortilla soup, grilled mahi—some of the best, that I have eaten.
Now you regulars know, that old Jeff isn't a big Mexican restaurant "fan"…that said (now I'm sounding like Larry David), Rocco's is the exception to the rule…I really enjoyed the food and look forward to a repeat outing.
So mi amigos–we got a moderately priced, great looking, terrific food– Mexican joint…for good measure, throw in super pleasant hostess, Andrea at the front door… competent waitress Rachel handling the table– and manager Jeff Pisoni "checking" on ever table in the joint.—and you got a winner.
No fooling around, this Rocco's Tacos is a homerun. I'm going to assume that the West Palm location is just as "strong"…if you get to WPB before I do and it ain't up to snuff, let me know.
Rocco's Tacos is open 7 days a week for lunch and dinner.