Nana's Original Stromboli (Fort Lauderdale)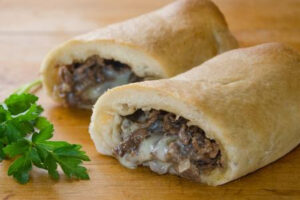 ***** Nana's Original Stromboli, 4420 Northeast 20th Avenue, Fort Lauderdale, Florida 33308 (954) 771-6262.
You got to try this one…Nana's Original Stromboli which is a 5-stool counter joint that makes STROMBOLIS. By the way, for you non-Italians out there, a stromboli is basically a turnover (made from pizza dough) which has various fillings in it.
If you check Nana's website www.nanasoriginalstromboli.com you will find that the joint has 5—10″ strombolis on the menu, 1-daily special stromboli, 2 salads, 2 desserts. Strombolis run $5.50-6.00, with the daily special consisting of the "daily special stromboli"+salad+dessert fetching $7.50.
OUTRAGEOUSLY GOOD…I sampled the spinach, pepperoni, chicken, cheese steak and "Original" pepperoni-ham-green peppers-mozzarella. No kidding around, these strombolis are outrageously good…and for those of you who might be wondering—No!! I didn't eat 5-10″ strombolis all by my lonesome. Just so you know, all 5 were delicious–but if push came to shove—my favorite was the cheese steak.
Nana's is really a takeout joint—like I said, 5 stools are the only seating. Trust me, these things taste great in the car and hold-up quite well when reheated at home.
Nana's is open Monday-Friday 9am-6pm, Saturday 9am-3pm and closed on Sunday.