Augy's Pizza Restaurant (Boca Raton)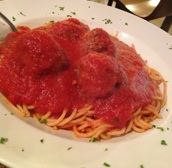 ***** Augy's Pizza Restaurant, 1501 Northwest Boca Raton Boulevard, Boca Raton, Florida 33432 (561) 368-1330.
Do me a big a big favor and check my Augy's Pizza Restaurant review which I did back on July 23, 2008…it will save me from doing some typing here.
Augy's is a "mom & pop" red sauce Italian joint…it has been around for something like 1,000 years.
That 2008 review told you…that a few years ago the "original" owners sold the joint to new guys, blah blah, blah…
Anyway…to make a long story–short…the old owners are BACK running the joint. During the past 4 weeks, I have eaten in Augy's three times and the food has been outrageously good—in fact, better than ever. Some of the dishes that I have "sampled"… chicken marsala, bone in chicken cacciatore, pizza, veal parmigiana, bone in chicken scarpiello, shrimp scampi, garlic bread (not garlic knots), minestrone soup…and I must tell you, Augy's is right up there with the best mama-poppa Italian joints in South Florida. By the way, they currently have a $20 dinner special…soup or salad, appetizer, entree, pasta side, dessert. They also have a Monday-Friday lunch buffet of pizzas–subs-salads for something like 5 bucks.
If you haven't eaten in Augy's…you gotta give it a shot. Nothing fancy here…but I am telling you– big portions, reasonable prices and the food is delicious.
Augy's is open 7 days a week for lunch and dinner.