Paquito's Mexican Restaurant (North Miami)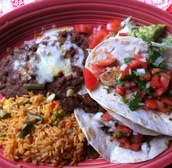 ***** Paquito's Mexican Restaurant, 16265 Biscayne Boulevard, North Miami, Florida 33160 (305) 947-0096.
Paquito's is a casual- reasonably priced Mexican joint located in North Miami. You can check its website www.paquitosmiami.com for menu/prices/and tons of photos. Paquito's has a full bar.
By now, you regular Jeff Eats' guys probably know that Mexican food is not one of my favorite past-times…maybe it has something to do with that "D" that I got from Mr. Cohen in 11th grade Spanish at Erasmus Hall High School, anyway, sometimes I gotta eat in joints to appease the "cravings" of others.
Paquito's menu is loaded with tacos, burritos, tamales, enchiladas, etc. In a recent outing I tried–grilled steak, beef fajita, chicken fajita, chili con carne and broiled shrimp…and I have to tell you, the food was very good. Like I said before, I am not a Mexican-food fan…that said, Paquito's was one of the better Mexican joints that I have eaten in.
Paquito's is open Monday-Thursday 11:30am-11pm, Friday-Saturday noon-midnight, Sunday noon-10pm.
If Mexican food is your bag, this is a good one.