Whiskey Tango (Hollywood)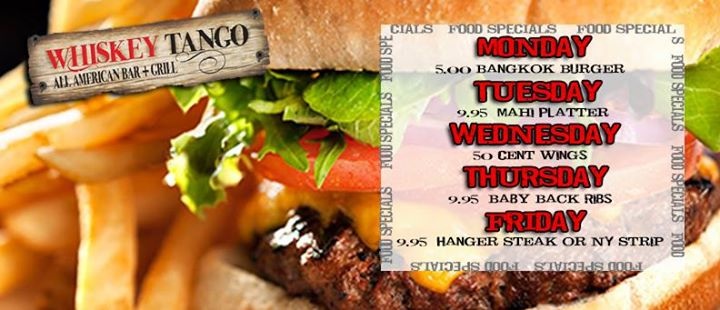 ***** Whiskey Tango, 1903 Hollywood Boulevard, Hollywood, Florida 33020 (954) 925-2555.
I recently gave Whiskey Tango a shot… and I have to tell you, that I really enjoyed this very casual "American Style" sports bar. Good "bar food"–Reasonable prices–TVs–Rock Bands on the weekend–Indoor and outdoor patio. Check Whiskey's website www/whiskeytangofl.com for menu/prices/photos.
Whiskey Tango is a very casual joint, your tee shirt and shorts will work here. The joint's menu is loaded with appetizers, salads, sandwiches, burgers, meat-seafood-chicken entrees. A recent outing had me doing–in no particular order…a bacon cheeseburger, bbq babyback ribs, shrimp scampi, "chicken thumbs" which are chicken fingers fried and coated with Cap'n Crunch Ceral, Philly cheese steak wrap—and I gotta tell you, for BAR FOOD the stuff is real-good…
Like I said before, I really enjoyed this joint. If you are looking for "fancy" this joint ain't for you…but if you are looking for decent enough food, real casual atmosphere, some rock n' roll music—just a plain old good time, I think you will really enjoy this joint.
Whiskey Tango is open 7 days a week for lunch and dinner.