Aunt Mary's Bagels (Pembroke Pines)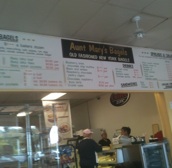 ***** Aunt Mary's Bagels, 12189 Pembroke Road, Pembroke Pines, Florida 33025 (954) 432-3339.
Aunt Mary's is a "bagel-deli" joint…handful of tables. Decent enough bagels, breakfast stuff, sandwiches, deli meats, appetizing.
Let's call Aunt Mary's which is open Monday-Saturday 6:30am-3pm and Sunday 7am-1pm a "decent enough" LOCAL-NEIGHBORHOOD bagel deli joint.