La Dolce Vita Pizza (Coconut Grove)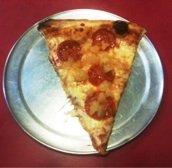 ***** La Dolce Vita Pizza, 2717 Southwest 37th Avenue, Coral Gables, Florida 33133 (305) 443-6063.
La Dolce Vita Pizza is a "neighborhood pizza joint." You order at the counter/You pick-up at the counter. Handful of tables. The joint's menu has the expected pizzas, pastas, subs, entrees…very reasonably priced.
Tried the pizza…nothing beats 2-slices and a large Coke…and I gotta tell you, thin, crispy, sweet sauce—delicious pizza. Also tried a veal parm sub and the meat-lasagna—good, but I'll bet you that your favorite neighborhood takeout joint makes better stuff.
So…if you live or work in La Dolce Vita Pizza's neighborhood, you now know about a joint that makes delicious pizza and "ok" veal parm and meat lasagna.
La Dole Vita Pizza is open 7 days a week for lunch and dinner.