Waterway Cafe (Palm Beach Gardens)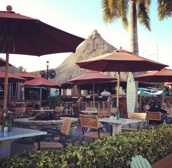 ***** Waterway Cafe,2300 PGA Boulevard, Palm Beach Gardens, Florida 33410 (561) 694-1700.
Let's see…October 7, 2009…so your "northern" relatives will soon be inviting themselves down for the holidays etc.
Got a real good-casual- moderately priced "American-style-on the Intracoastal" joint to take them to, to make them jealous…Waterway Cafe in Palm Beach Gardens. Checkout the joint's website www.waterwaycafe.com for menu/prices/photos/entertainment schedule.
The Waterway Cafe has been around for something like 23 years. The joint has indoor and outdoor seating…personally, outdoor is the way to go, amazing view. The menu is loaded with soups, appetizers, salads, burgers, sandwiches, pizzas, pastas, chicken-meat-seafood entrees. On the weekends, local bands entertain…A recent outing had me trying cheeseburger, crab cake, lamb chops, orange chicken and broiled lobster tail. Gourmet stuff?..now let's not be silly here…GOOD FOOD. Combine good food-outdoor dining-great water views-reasonable prices-shorts & tee shirts and you got a homerun and some very jealous relatives.
I highly recommend Waterway Cafe…joints like this, are what South Florida is all about.
Waterway is open for lunch 11:30am-4pm Monday-Saturday, 11am-4pm Sunday… and for dinner Monday-Thursday 4pm-10pm and Friday-Sunday 4pm-11pm.