Taso's Greek Taverna (Delray Beach)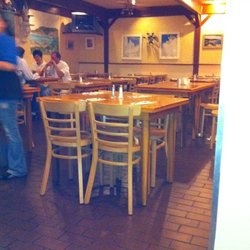 www.tasosgreektaverna.com for menu/prices/photos/info.
Like I said, not a big fan of this kind of stuff…Taste-test of grilled chicken pita, pork souvlaki pita, grilled sausage pita…not bad, not bad at all…actually, the stuff was quite good. Taso's menu has loads of appetizers, salads, pitas, wraps, platters.
Just so you know, thankfully, Taso's isn't a "table top dancing" joint…nor a "throw the plate on the floor" joint. That's good…I hate forced-fun. Taso's is a straight up–no frills– Greek joint with very reasonable prices and very-very pleasant service.
I enjoyed my dinner. Like I said before, I'm not the "go to guy" on Greek joints…don't care for the cheeses used, most of the sauces used, the over-use of lemon in dishes.
Taso's is open for lunch Monday-Saturday 11am-3pm and dinner Monday-Sunday 5pm-9pm.