Duffy's Diner (Fort Lauderdale)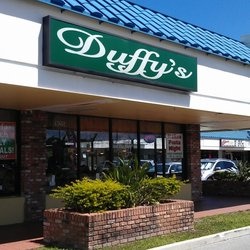 ***** Duffy's Diner, 925 Cypress Creek Road, Fort Lauderdale, Florida 33334 (954) 491-3584.
By now, you guys know or should know, that I love diners…for sure, some diners are better than others, but nothing beats, that formica look—those greasy burgers, fries covered in ketchup, omeletes-sausage links-bacon, open faced roast beef sandwiches and glass cabinets filled with huge chocolate cakes and cigar-pastries.
Got a real good one for you…Duffy's Diner in Fort lauderdale. The joint's menu is loaded with breakfast stuff, salads, soups, sandwiches, entree specials.
The "only" problem…this joint doesn't do dinner. Duffy's is open Monday-Friday 6:30am-3pm, Saturday 6:30am-2:30pm and Sunday 6:30am-1:30pm. Doesn't anyone down here eat breakfast after 3pm? I know that I do.
Anyway…the joint serves breakfast "all-day"…perfect diner food. As far I am concerned, Duffy's can hold its own against -NYC diners, of course that all ends at mid-afternoon.
This one is a keeper…If you are looking for a DINER, Duffy's is for you.