Sir Pizza (Coral Gables)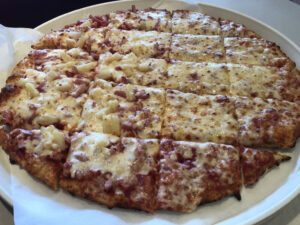 ***** Sir Pizza, 4231 South LeJune Road, Miami, Florida 33146 (305) 448-4040.
Got an absolutely dynamite "pizza-sub-salad" joint for you…Sir Pizza in Coral Gables.
If you go to the joint's website www.sirpizzamiami.com you will find menu/prices/photos. Trust me on this one, the "pictured" food tastes as good as it looks and the joint is as "cool looking" as well.
The website has a "whole big story" about Sir Pizza's original Key Biscayne location…and how this Coral Gables' spot came to be. Just thought you historians out there would be interested.
The pizza is thin-crisp–just right sweet—cut into little square pieces. I also did a meatball sub, philly cheese-steak sub, sausage stromboli. I am telling, real reasonable prices and really good food.
Sir Pizza is a real easy-going– low key joint. Shorts/tee shirts… I really enjoyed the food and ambiance. The menu has salads, pizzas, subs, burgers, pastas.
The next time you are in Coral Gables… try this joint.
Sir Pizza is open Sunday-Wednesday 10am-11pm and Thursday-Saturday 10am-2am.