Neil Zirconia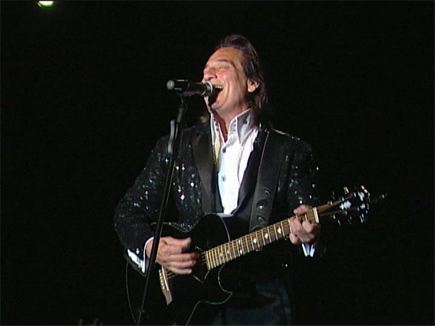 ***** Neil Zirconia *****
On Friday night (8/28/09) I saw NEIL ZIRCONIA a Boynton Beach based Neil Diamond impersonator who was working at Ellie's 50's Style Diner (7/15/08) in Delray Beach. For 30 bucks which included tax and tip…you got a buffet dinner and a 2-hour show in Ellie's catering room which is located in the rear of its 50's diner. Gourmet food? Now let's not get dopey here…but decent enough. I counted 80 people sitting at tables of 10. On this particular outing, Zirconia was doing a "track show"…I understand that in bigger rooms, he does a straight-up live music show backed by local band Whitestone. If you check "You Tube", there are a couple of Zirconia-Whitestone performances. By the way, Whitestone is one of the best 1950s-1970's rock n' roll-disco cover bands currently working the South Florida club-bar-party circuit (www.whitestoneband.com).
Before the show, I met "Neil" and his wife Laurie and they are super pleasant people. I will tell you, that "Neil's" natural voice has that grainy-Neil Diamond tone to it. This "Neil" has a resemblance to Neil Diamond age 40. Trust me, it all works.
The show was terrific…THE GUY SOUNDS JUST LIKE NEIL DIAMOND. The performance covered all of the hits and was really enjoyable. Checkout– Neil Zirconia's website www.neilzirconia.com for information/dates of future performances.
When you check the website, you will find a number of upcoming dates, where his show is "free"…you just have to be in the restaurant or pub when he is working.
So…if you like Neil Diamond's music, you now know about a local guy who does an amazing "copy" of the original.