"Real NY Style Delis"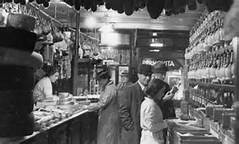 ***** "Real NY Style Delis" *****
Over the years, people have asked me…"Hey Jeff, what's the best deli down here in South Florida?"
If you do some checking…Jeff Eats got tons of bagel-deli joints listed. Most of them are pretty-good—for what they are, BAGEL-DELI joints. Now, I am not going to name names, but most of these joints "sell" just passable deli…pastrami, corned beef, tongue, turkey, brisket. Most don't use top-shelf stuff… face it, that's the game down-here in South Florida…very budget oriented crowd. Now don't get me wrong, these joints are just fine…but if you are looking for OUTSTANDING stuff, most of them just don't pass muster ( or is it mustard?).
What constitutes great deli, is a very personal thing. What I do know, is that pre-packaged meats that are heated, don't qualify. I'm looking for the guys who make their own stuff…trust me on this, very few of the joints down here "make their own stuff."
Now…I am going to give you the names of 5 joints that could compete with any NYC deli. These 5 have outstanding deli meats…these 5, are the joints that you want to go to when you crave a great… pastrami-corned beef-turkey off the bone-tongue-brisket sandwich…not to mention chopped liver, tuna or chicken salad.
Now…I could try and put them in some type of order, but that's really impossible…because, one joint may have better brisket than another, while its corned beef isn't as good.
What I do know, is that these 5 joints sell top notch stuff. Like I said before, in no particular order: Pomperdale (Fort Lauderdale, 6/18/08)—Pastrami Queen (Boca Raton, 12/12/08)—Sage (Hallandale Beach, 5/22/08)—Ben's of Boca (Boca Raton, 3/8/08)—Pastrami Club (Lauderhill, 3/3/08).
You guys know that I eat all over. What I can tell you, is that when I want the best, these are the 5 joints that come to mind.