Dean Anthony's Express (Boca Raton)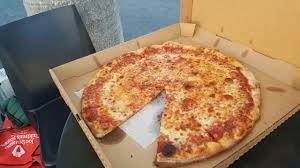 ***** Dean Anthony's Express, 1449 Yamato Road, Boca Raton, Florida 33431 (561) 988-2202.
The folks in Boca Raton just-lucked out…let me explain.
Dean Anthony's is a "mom & pop" red sauce Italian joint which currently has 1 full- restaurant in Wellington and 1 full-restaurant in Boynton Beach. Two days ago…in a real-small Boca Raton strip center a Dean Anthony's Express opened… which if you forget about a few window-counter seats, is a takeout-only joint.
Over the years, I must have eaten in the Dean Anthony's restaurants at least 10 times…I rank these joints right up there with the "best" in the mom & pop South Florida Italian category. By the way, before the Jeff Eats' website crashed a few years ago, there was a very favorable review on the full-restaurants. On my to do list, is a revisit for an updated "opinion"…
Last night, I tried Dean Anthony's Express…the menu is loaded with appetizers, salads, pastas, sandwiches, chicken wings (something like 12 different sauces), entrees, pizzas… I did a plain pizza, penne alla vodka, chicken parmigiana, greek salad, garlic rolls, cheese calzone, chicken wings (honey garlic), meatballs-spaghetti…everything I "sampled" was real-good. Gourmet food? Now, let's not play dopey here! This is a takeout red- sauce -joint, but I am telling you, that give or take a handful of restaurants, this Dean Anthony's Express is as good as neighborhood takeout gets. One thing that I gotta single out here for special treatment, the pizza…plain old slice with sauce/cheese—one of the best slices I have had down here in South Florida…let's call it a real NY slice.
As for prices…strictly neighborhood prices. 10 wings $7.99–Greek salad (enough for 2) $9.99–a large pizza goes for $13.99. You definitely won't go broke ordering from this joint.
You folks in Boca Raton really lucked out…I am telling you, that the next time you want takeout, you want to give Dean Anthony's a try.
The joint is open Monday-Sarurday 11am-9pm and Sunday 3pm-9pm.