Henry's (Delray Beach)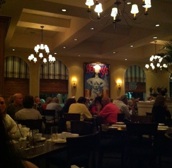 ***** Henry's, 16850 Jog Road, Delray Beach, Florida 33446 ( 561) 638-1949.
Got a real-nice "American-style" joint for you…Henry's, which is located in Delray Beach.
We can make this one real simple…check the joint's website www.henryofbocaraton.com for menu/prices/photos.
The joint has a beautiful menu…nice selection of appetizers, salads, sandwiches, entrees. Not bad prices–Plenty of specials and price fixe dinners ($19.95 range). Real good waitstaff
Let's talk food…did a turkey meatloaf, bbq ribs, chicken marsala, veal parmigiana, crab cakes. Absolutely nothing to complain about.
This is a real good joint to know about, when you are looking for "old style" comfort food. Now keep in mind, this isn't some roadside dump-diner (which happens to be old Jeff Eats' establishment of choice) but rather, a nice looking but not too fancy joint…if you check that website, you'll see photos that will tell you the whole story in about 1 second.
Henry's does lunch Monday-Friday 11:30am-2:30pm and Saturday noon-2:30pm and dinner Sunday-Thursday 5:30pm-9pm and Friday-Saturday 5:30pm-10pm.