Hong Kong Noodles (North Miami)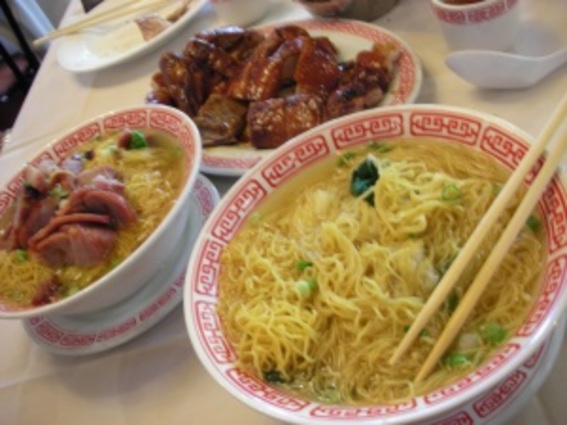 ***** Hong Kong Noodles, 1242 Northeast 163rd Street, North Miami, Florida 33162 (305) 956-5677.
Hong Kong Noodles is a "mom & pop" Chinese joint…you know exactly what its decor is/price points are/service is…so I won't bore you with details. This joint is an interesting combination of…"Brooklyn-style/Jewish Chinese food" and "Real Authentic Chinese food." Regular Jeff Eats' readers know that old Jeff really isn't a fan of fried chicken feet-roasted pig head…so, I can't tell you how this stuff tasted, because I didn't taste it. What I can tell you, is that… the "Brooklyn" stuff was very good. I did a roast duck that was dynamite…same goes for bbq spare ribs, wonton soup, roast pork fried rice, shrimp in black bean sauce.
Nothing fancy here…roast ducks and pigs hanging decorations…
I really liked this joint. Hong Kong Noodles is open 7 days a week for lunch-dinner.